As a life-long gym bro and powerlifting-enthusiast, I researched 20 of the market's leading trap bars and over 2000 genuine user reviews to determine the best trap bars in 2022.
I found the best fit for most people to be the Rogue TB-1 Trap Bar.
It comes with an updated precision sleeve construction, making it 25% lighter than the 1.0. Paired with the fact that the bar is rackable, allowing you to perform rack deadlifts and different presses will make it the ideal choice for most garage gyms.
Despite Rogue's trap bar weighing only 60 pounds, it is a durable, but not an overly rigid product, which is ACFT (Army Combat Fitness Test) approved and comes with a lifetime warranty. Rogue's signature black powder coating and hexagonal design make for a desirable product that is hard to match by the competition.
The trap bar's only downside is that the finish on the coated sleeves will eventually wear off, due to constantly loading plates.
The Top Trap Bars Reviewed
Product's name
Main Features
More Info

Best Overall


ROGUE TB-1 TRAP BAR 2.0
- Updated precision
- Sleeve construction
- Rackable
View latest price
[amazon fields="B07N4M53DC" value="thumb"]

Best Ultra-Budget Option


[amazon fields="B07N4M53DC" value="title" title_length="100"]
- Incorporated feet
- Industrial powder coating
[amazon fields="B07N4M53DC" value="button"]
[amazon fields="B079LGVS7X" value="thumb"]

Best for Seniors


[amazon fields="B079LGVS7X" value="title" title_length="100"]
- Two Handles
- Two types of knurling on each handle
[amazon fields="B079LGVS7X" value="button"]
[amazon fields="B07FCFK2R3" value="thumb"]

Best Budget Option


[amazon fields="B07FCFK2R3" value="title" title_length="100"]
- Heavy-duty steel
- 1000-pound max weight capacity
[amazon fields="B07FCFK2R3" value="button"]

Best High-end Option


Kabuki Strength - THE TRAP BAR HD
- Open design
- Swappable handle brackets
View latest price

Best Value Option


Titan Rackable Hex Trap Bar – V2
- Dual handles
- 800-pound max weight capacity
View latest price
Find the right Trap Bar for You
[amazon fields="B07N4M53DC" value="thumb" image_size="large"]
Best Ultra-Budget Option
[amazon fields="B07N4M53DC" value="title" title_length="100″]
[amazon fields="B07N4M53DC" value="button"]
CAP's Olympic Trap bar is our first recommendation if you're looking for the best budget option and are a beginner or intermediate lifter. While it lacks several of the Rogue TB-1's refinements and design, it is a dependable piece of equipment, with a highly durable industrial powder coating that gets the job done when it comes to deadlifts, shrugs or full-body workouts.
This trap bar is compact, with only a 50-inch length, which paired with the incorporated feet that protect your floor, make it the most affordable trap bar for your budget home gym. If you plan on lifting up to 500 pounds and have a small space, or simply aren't looking to spend a fortune on equipment, this is your best bet.
However, Cap's trap bar isn't without its limitations, which is understandable for the price range. It feels more rigid than it's high-end competitors and is vastly criticized for lacking the knurling on the handle and not having much room for hands.
If you're in the market for the cheapest trap bar, with none of the TB-1's design and refinement, most beginner lifters will probably get away with this one, without ever having to upgrade due to its functionality.
Pros
Durable and dependable
Incorporated feet
Industrial powder coating
Cons
500-pound max weight capacity
Slightly rigid
Small room for gripping.
[amazon fields="B079LGVS7X" value="thumb" image_size="large"]
Best for Seniors
[amazon fields="B079LGVS7X" value="title" title_length="100″]
[amazon fields="B079LGVS7X" value="button"]
Synergee's Olympic hex trap bar is a versatile and durable product, fit for most upper-intermediate and advanced lifters. It can hold up to 750 pounds, which is ideal for the lifetime of most athletes and the fact that the two handles have an aggressive depth and standard depth of knurling, makes it ideal for a home gym used by the whole family.
Despite its professional feel and superior weight capacity, we specifically recommend this for seniors and female lifters due to its comfortable frame and light standard weight. This trap bar comes in a 55-pounds or 45-pound version, the latter having only one set of handles, which makes it an ideal pick for the elderly, who are looking to maintain muscular strength and functionality.
The trap bar is a good pick for most lifters who are willing to spend the budget, however, it often gets a bad rep for its subpar chrome finish and overall cosmetic aspect. Paired with the frail plastic packaging, these aren't necessarily to deter you from buying but do not match our expectations for the product's higher price.
Pros
Two types of knurling
750-pound max weight capacity
Good handles
Cons
Subpar finish.
Frail packaging
Cosmetically lacking.
[amazon fields="B07FCFK2R3″ value="thumb" image_size="large"]
Best Budget Option
#1- [amazon fields="B07FCFK2R3″ value="title" title_length="100″]
[amazon fields="B07FCFK2R3″ value="button"]
Hulkfit's hex trap bar is a solid budget pick to any advanced lifter's garage gym, who is looking for a dependable product. It's heavy-duty steel frame and extra long loadable sleeves allow for a max weight capacity of 1000 pounds, enough for most elite lifters to play with. Despite its high durability, this trap bar isn't as rigid as you would expect and is built to endure your lifts for a lifetime.
Compared to your average hex bar, this one allows for a variety of motions from Bulgarian split squats, to military shoulder presses and seal rows, making it a versatile piece of equipment. However, both its handles have been widely criticized for featuring overly aggressive knurling. A matter that can be addressed with some sandpaper if needed.
Some of the reasons for which we wouldn't recommend this over our top picks is the sketchy packaging and cosmetically-damaged products received by many of Hulkfit's customers. Another issue is the poor welding quality, which doesn't seem to compromise its solid structure, but simply looks unprofessional, and off-putting for the trap bar's price tag.
Overall, a great addition to any advanced lifter's budget garage setup, who isn't bothered by the aggressive knurling pattern and the aesthetics of the trap bar.
Pros
Two types of knurling
1000-pound max weight capacity
Durable heavy-duty steel
Cons
Overly aggressive knurling
Poor welding quality
Sketchy packaging
Chris Duffin's specialty trap bar is a masterpiece in terms of design and versatility. It has a staggering weight capacity of 1500-pounds and features an open-design to enable lunges, back and front squats, triceps extensions, and many more. The overall feel and attention to detail on this bar make the cost understandable from your very first lift.
The Trap Bar HD comes with removable sleeves, swappable handle brackets, and swappable grips with three sizes. The built-in bar jack is also a highly attractive feature for advanced lifters, who seek to load and unload their plates with much more ease. The angles and welds of this bar suggest high-precision craftsmanship.
This is currently one of the best trap bars on the market, with merely a few shortcomings. Despite its versatility, the bar is not rackable, which might be desirable if you have limited equipment. The metallic feet are a great addition, but for the price, we'd love to see a cover that would prevent damage to wooden floors.
Some users have also reported the sleeve finish diminishing over time, and for those looking to squat with this bar, the square tubing might make it slightly uncomfortable. That being said, this still is one of the best-built trap bars out there. If you have the budget for it, this will be the first and last trap bar you'll ever want for your home gym.
Pros
Built-in bar jack
1500-pound max weight capacity
Swappable handle brackets
Cons
Not rackable
Metallic feet
Sleeve finish diminishes.
Titan's Rackable Hex Trap Bar 2.0 is similar in terms of design, construction and finish with our top pick, the Rogue TB-1, with a few minor imperfections. It is a sturdy trap bar, with dual handles and high-quality powder coating, which unfortunately extends to the sleeves as well. This is a solid hex bar, with a max weight capacity of 800 pounds, and it matches the Rogue TB-1 in terms of functionality, without some of its refinements.
The bar is technically rackable, however, Titan fails to mention that you can't fit it on the J-cups, only on the safeties. The other main issue of the trap bar is that the bottom handle, which will be used the most, features no knurling, a flaw in design we don't quite understand, that will impact your overall lifting experience.
Another popular complaint with Titan's trap bar is the 22″ spacing between the handles, which is smaller than the industry standard, yet should only be a deal-breaker for athletes over 6'1. Despite its shortcomings, this is one of the best value trap bars on the market, and we would recommend it to most home gym owners on a budget.
Pros
800-pound max weight capacity
High-quality powder coating
Dual handles
Cons
No knurling on the bottom handle
Smaller distance between the handles
Won't take standard collars.
Trap Bar Buying Guide
The Benefits of a Trap Bar
The hex trap bar was invented in the 1980s by the powerlifter Al Gerard, as a means to increase the weight on his deadlifts and decrease the chance of injury. The trap bar has proven to be a useful piece of equipment ever since, especially due to it being the easier way to deadlift for beginners.
In comparison to deadlifting with a barbell, it has proven to offer many benefits (not to say that there's anything wrong with deadlifting with a barbell), such as higher athletic transfer to sports, versatility and significantly lowered risk of injury.
The trap hex bar greatly decreases the deadlift's pressure on the lumbar spine, prevents lumbar hyperextensions, eliminates the dangers of a mixed grip (I.e. bicep tears, uneven muscle development), and offers a safer alternative for overhead presses. Whether you're a beginner or a seasoned powerlifter, we recommend at least giving the trap bar lifts a try. For further reference, here's an informative video about the differences between the barbell and hex bar deadlifts.
What to Look for When Buying Trap Bars
Despite it being a weight lifting bar, the acquisition of the right trap bar comes with many intricacies and it's durability, functionality and versatility can greatly depend on them. To give you a clear overview, we've written a list of 5 factors that we believe to have the biggest impact on the experience of most lifters when acquiring their hex bar.
Material
The type of steel the trap bar is made of should be given careful consideration. Even though it's less important than the steel that a barbell is made of due to its additional supporting structures, it can directly affect the maximum weight capacity of the trap bar, which is a deal-breaker for advanced athletes.
Features and Functionality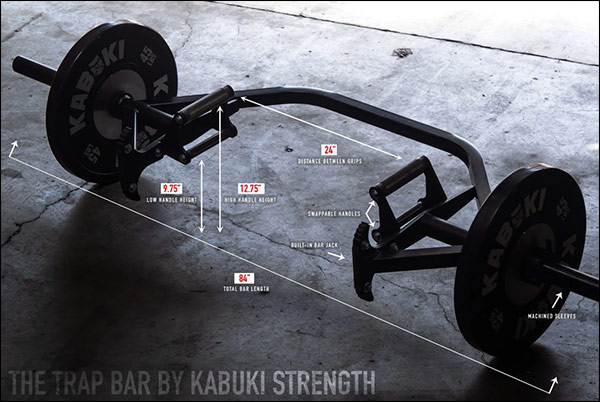 The standard trap hex bar is a fairly straight-forward piece of equipment, however different price ranges offer products with more versatile uses. Depending on your needs, you might want to look out for the ones that are rackable, have open or closed ends, two handles for a wider range of exercises, and the knurling for optimal gripping. Your next trap bar can be a simple one, but you should make sure its features match the price.
Overall Construction and Design
The trap bar's construction covers several aspects from welding to the loadable sleeves, angles and the dimensions, which can all greatly limit its possible uses. For instance, an expensive trap bar's welding should permit for a bigger weight load, while its dimensions should comfortably fit the largest of athletes for more types of exercises, than its cheaper counterparts.
Knurling
The knurling is perhaps the most underrated aspect of a hex trap bar, which will in fact greatly affect your lifts. The cheapest trap bars might come without knurling, which is fine for some lifters but will decrease their overall performance. Whether you prefer a standard knurling or more aggressive one is up to you, but make sure to look out for this particular feature. You wouldn't want your hex bar to slip out of your hands while deadlifting, or causing calluses after a few sets of farmer's walks.
Finish
The finish of a hex trap bar is an absolute deal-breaker when it comes to its lifespan. The cheaper bars might start losing their coating pretty soon, especially at the sleeves, while others might start rusting at the welds, causing a mess in your home gym. Powder coating is the industry standard, but not necessarily the best, especially for the wear and tear of the sleeves. If you're looking for an enduring trap bar, we recommend one with a superior finish.
FAQs for Trap Bars
Can you lift more weight with a hex trap bar?
Studies prove that the trap bar enables heavier lifts, due to the external moment arm lengths at the hips, knees and ankles all being shorter in comparison to the barbell. This will allow for more weight to be used for the same lower body and trunk net joint moments.
Is the hex trap bar better than the barbell?
All things considered, the hex bar is better for going heavier on deadlifts as well as for reducing stress on the lower back and the chance of injury. Even if you compete in the deadlift, using the hex bar occasionally can help you go heavier to get stronger in the lower-body muscles.
Are Rogue trap bars worth it?
Despite there being several cheaper options on the market, we found that Rogue's hex trap bars offer the best bang for the buck with their quality, design and versatility if you're looking for something in that price range.
Can you perform squats with a hex trap bar?
Hex bars let people with back problems perform squats without putting unnecessary strain on the back and shoulders. Because hex bar squats use the same motion as standard barbell squats, they activate the same muscle groups.
Conclusion
After testing out the leading hex trap bars of the industry and carefully researching the experience of over 2000 fellow lifters, we found that currently, the best trap bar for most people is the Rogue TB-1. The ACFT approval is almost a guarantee in itself, of the fact that the quality of the TB-1 matches the price tag.
The trap bar is rackable, has a long-lasting black powder coating, and is overall a strong bar, without the rigidity and inferior feel of it's cheaper competitors. This versatile and heavy load bearing hex trap bar certainly lives up to its predecessor's expectations, and despite not having an additional handle, we are confident that most beginner and advanced lifters will never have to upgrade due to it.
As previously stated, the only major downside of the Rogue TB-1 is that the coating on the sleeves will gradually fade. We are confident that this issue will be addressed with the hex trap bar's next version and it shouldn't deter you from buying it for your home gym.